Surfing the Web
Alarie Design has partnered with Toyosity and the Surfer Dudes brand from the very beginning. As Surfer Dudes has grown and expanded over the years, it was time for their website to grow and expand as well. Our team was tasked with a website redesign with the goal of creating an extremely user-friendly site that showcases the personality of these self-righting surfing toys. Utilizing our services and expertise we created a custom web package, that not only exceeded design expectations but was built with the best web development and SEO practices available.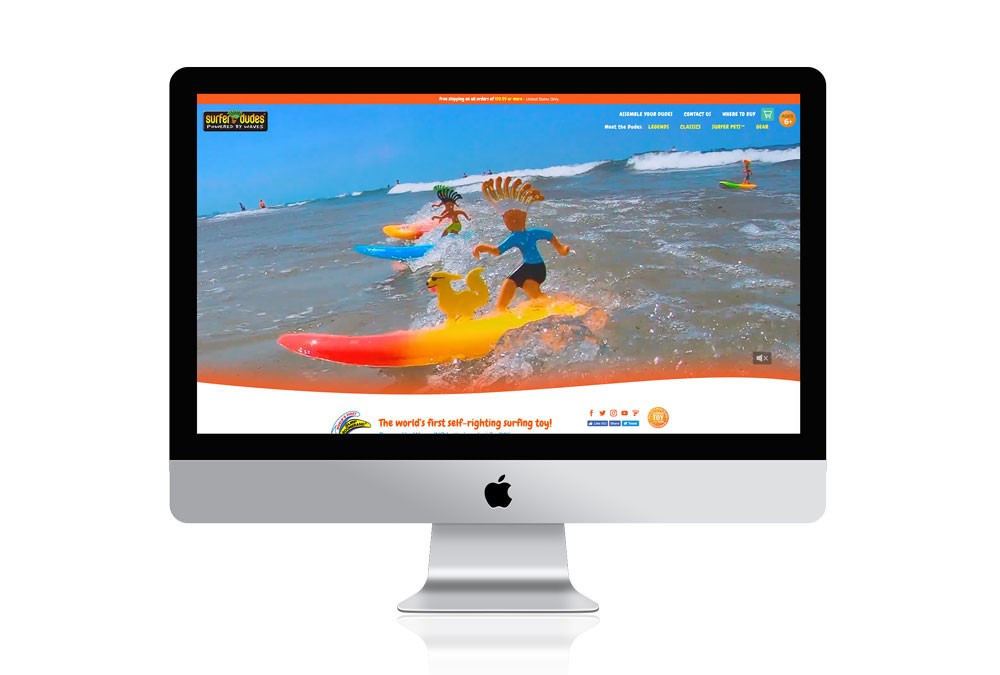 Playful Web Design
Being that Surfer Dudes is a "Beach toy," this gave us a lot of creative freedom to play into this theme on the website. And we took full advantage with some custom design experiences like animated waves splashing into each page, page headers etched into the sand, and smaller details like Surfer Dude icons on the Where to Buy map. The whole site is designed to bring Surfer Dudes to life.
Hanging Ten on WordPress
Toyosity was eager to have a website that was easy to manage, update and edit without having to make changes to the code, so we migrated the Dudes to WordPress, an easy to use Content Management System (CMS) dominating 61% of all CMS-powered websites (as of September 2019). This allowed us to incorporate editing capabilities on each page and make it easy for them to update/edit on their time.
A Full Online Shopping Experience
On top of this, we expanded the shopping experience from a single shop page to a fully integrated Shopify e-commerce platform. This allows for more Call to Action areas throughout the site, Add to Cart functionality on all pages/ products, and ultimately creates a more fluid shopping experience for the user. Check out the totally tubular Surfer Dudes website below and when you're ready, Let's Go!